Penwern: A Frank Lloyd Wright Estate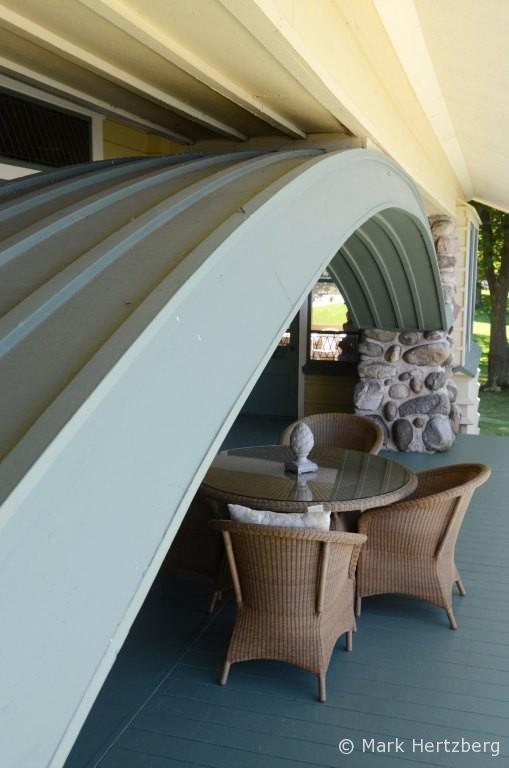 The year was 1900. Frank Lloyd Wright needed a project to display his talents; Fred B. Jones needed a place in the country to escape the Chicago heat and hectic business world. The result was an amazing estate, which Frank Lloyd Wright named Penwern.
The estate consists of four structures; a main house, boat house, gate house and stable, which were built on a 10-acre site with 600 feet of lakefront and a commanding view of Delavan Lake. The boathouse was built in 1900, the house in 1901, and the stable and gatehouse followed in 1903.
Everything was thought of and taken into account. Wright included a huge insulated room in the stable for storing ice. He built a fireplace in the lower level of the boathouse so the workers could warm themselves while cutting ice for storage. A greenhouse was included to satisfy Fred's interest in cultivating roses and fresh vegetables.
The four structures were designed to be in perfect harmony with each other and the land on which they were placed. The buildings are large, but don't appear large. The alignment was thought through in such detail that person sitting on the porch and looking out over the lake would have an unobstructed view of the opposite shore. Had the boathouse been just one foot higher that view would have been disrupted. That it was done in a time before computers showcases Wright's genius.
Now, some one hundred and ten years later, Penwern is as magical as it must have been when it was built. Today, just as it was then, it is a place to escape the summer heat and hectic business world.
Penwern is a private residence and, unfortunately, it's impractical to offer tours.  We're sorry. Should you have questions, please just send an email.  Thanks for your understanding.
In the Press
"Architectural Archaeologist," on

Wright in Racine

, November 21, 2017.

"Reviving Penwern," At the Lake Magazine, August 2017.
Autumn 2014 issue of At the Lake Magazine.

"The Coda to Penwern's Rehabilitation," on

Wright in Racine

.

"Penwern – Wright's Porch Design is Built," on 

Wright in Racine.
"The Path of Frank Lloyd Wright's Path to Penwern," by Sandra Landen Machaj, Spirit of Geneva Lakes, August 2020.
"Taking a fresh look at Penwern," on Wright in Racine, October 27, 2020.
Contact Us for more information